DC/Marvel: Age of Infinite Heroes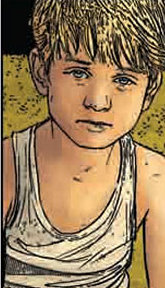 | | |
| --- | --- |
| Name | Alexander Aaron |
| Codename | Alex |
| Species | Demigod |
| Age | 9 |
| Affiliation | John Aaron |
| Powers/Abilities | |

Alexander Aaron is Ares' young son. He's presently about 9 years old, and appears to be a fairly unremarkable, but bright young boy. He is unaware of his father's true identity and nature, much less of the fact that he is technically a demigod and possibly quite powerful in his own right.
Background
Personality
Logs
2014-11-10 - Crash, Smash, Thump - Abomination sets a trap. Rhino is there to fight. It doesn't work.
Ad blocker interference detected!
Wikia is a free-to-use site that makes money from advertising. We have a modified experience for viewers using ad blockers

Wikia is not accessible if you've made further modifications. Remove the custom ad blocker rule(s) and the page will load as expected.