DC/Marvel: Age of Infinite Heroes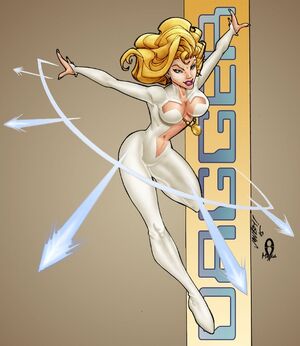 Name
Tandy Bowen
Codename
Dagger
Species
Metahuman
Age
19
Affiliation
Cloak, formerly New Warriors
Powers/Abilities



Living Light Connection

Light Daggers
Living Light Detoxification
Living Light Manipulation

Tandy Bowen is a homeless girl from Ohio. She's known as the girlfriend of Tyrone Johnson.
Dagger is a superhero in New York City that is known to be the partner of Cloak. She is a former member of the New Warriors along with Cloak.
Background
Personality
Logs
Ad blocker interference detected!
Wikia is a free-to-use site that makes money from advertising. We have a modified experience for viewers using ad blockers

Wikia is not accessible if you've made further modifications. Remove the custom ad blocker rule(s) and the page will load as expected.