DC/Marvel: Age of Infinite Heroes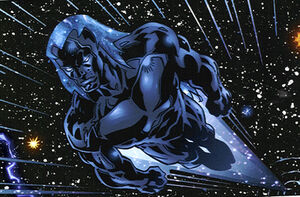 Name
Unknown
Codename
The Fallen One
Species
Cosmic Being
Age
Timeless
Affiliation
Solo
Powers/Abilities



Altered Physiology
Limitless Dark Force Control

The very first Herald of Galactus, The Fallen One was banished for being too cruel and sadistic. Now he seeks to destroy Galactus, his Heralds, and anything else that he decides to destroy.
Background
Personality
Logs
Log(s) happened before the revamp and may not apply in full:
Current Log(s):
Ad blocker interference detected!
Wikia is a free-to-use site that makes money from advertising. We have a modified experience for viewers using ad blockers

Wikia is not accessible if you've made further modifications. Remove the custom ad blocker rule(s) and the page will load as expected.