DC/Marvel: Age of Infinite Heroes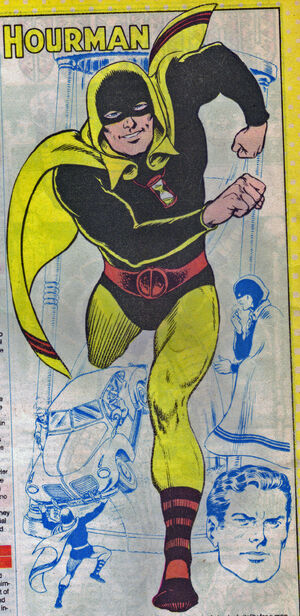 Name
Rex Tyler
Codename
Hour Man
Species
Metahuman
Age
70's
Affiliation
Justice Society of America
Powers/Abilities



Super Endurance
Super Strength
Enhanced Speed
Enhanced Durability
Aquatic Survival

Extended Lifespan (Due to Ian Karkull
Brilliant Chemist
Wears a ring that fires tear gas

Rex Tyler is a brilliant chemist and biologist and the CEO of Tyler Chemical.
The first Hourman was a costumed adventurer that that was a member of the JSA. He returned when the JSA disbanded. His son has since taken up the mantle of Hourman against his wishes.
Background
Personality
Logs
Ad blocker interference detected!
Wikia is a free-to-use site that makes money from advertising. We have a modified experience for viewers using ad blockers

Wikia is not accessible if you've made further modifications. Remove the custom ad blocker rule(s) and the page will load as expected.