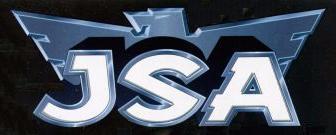 The Justice Society of America is the world's oldest super-team, and has been around since World War II off and on. The team was built around legacies - mentors teaching new generations of the legacies of past heroes, how to live up to legends, and to create their own legends at the same time that they are part of a society of superheroes. The team is currently disbanded and inactive.
Location: (Formerly) New York
Ad blocker interference detected!
Wikia is a free-to-use site that makes money from advertising. We have a modified experience for viewers using ad blockers

Wikia is not accessible if you've made further modifications. Remove the custom ad blocker rule(s) and the page will load as expected.