DC/Marvel: Age of Infinite Heroes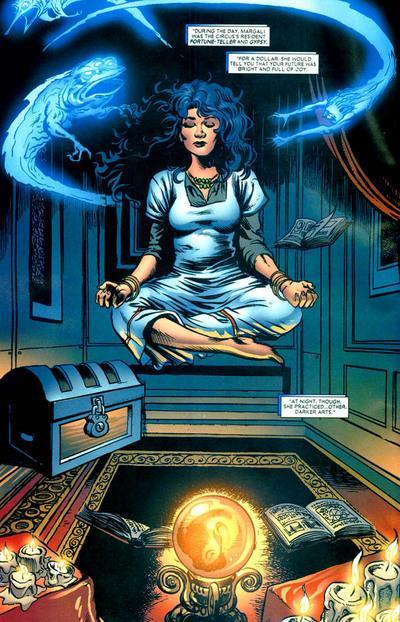 Name
Margali Szardos
Codename
Margali of the Winding Way, Sorceress Supreme, Fata Morgana, Red Queen
Species
Human Sorceress
Age
Unknown
Affiliation
Hellfire Club, Inner Circle
Powers/Abilities



Supreme of "The Winding Way" (Black Magic)

Power waxes and wanes depending on her position at the time in the winding path.
Spell-Casting
Teleportation
Master of Self-Alteration (Shape-Shifting)
Elemental Control
Manifested a Flaming Sword
Fire Blasts of Red Arcane Energy

Teleportational "Stepping Discs" (To and From Limbo)
Wand of Power

Margali Szardos is the fortune teller for a traveling circus and also a sorceress supreme, depending on which circles you are involved with. A mother of two, she grieves for the death of her son. She is also the foster mother to Kurt Wagner. A dangerous and selfish woman, nothing is more important than her blood and the legacy of "The Winding Way".
Background
Edit
Personality
Edit
Log(s) happened before the revamp and may not apply in full:
Current Log(s):
Ad blocker interference detected!
Wikia is a free-to-use site that makes money from advertising. We have a modified experience for viewers using ad blockers

Wikia is not accessible if you've made further modifications. Remove the custom ad blocker rule(s) and the page will load as expected.