DC/Marvel: Age of Infinite Heroes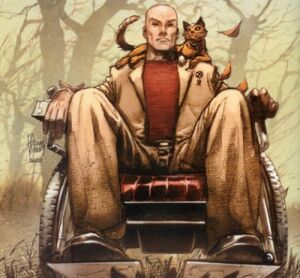 Name
Charles Francis Xavier
Codename
Professor X
Species
Mutant
Age
70s
Affiliation
Xavier's Institute, X-Men
Powers/Abilities



Telepathic Illusion
Telepathic Cloak
Psi Link
Telepathic Camouflage
Telekinesis
Mind Blast
Mind Control
Mind Possession
Mind Alteration
Mental Amnesia
Psionic Shield
Psionic Blasts
Astral Projection
Mental Detection
Mind Transferal
Absorb Information

Genius-level Intellect
Military Training
Expert Fighter
Knowledge of the Body

Professor Charles Xavier is Headmaster and founder to an exclusive private school known as Xavier's Institute in North Salem. It is a known mutant school, and known to be the base of the X-Men. He is known as a genius, and has written many articles about social improvement and mutant genetics. He also does guest lectures around the world.
Professor X is the founder of the X-Men. He is a powerful telepath and works hard to try and build a better future, even against fellow mutants such as the Brotherhood of Mutants.
Background
Edit
Personality
Edit
Ad blocker interference detected!
Wikia is a free-to-use site that makes money from advertising. We have a modified experience for viewers using ad blockers

Wikia is not accessible if you've made further modifications. Remove the custom ad blocker rule(s) and the page will load as expected.