DC/Marvel: Age of Infinite Heroes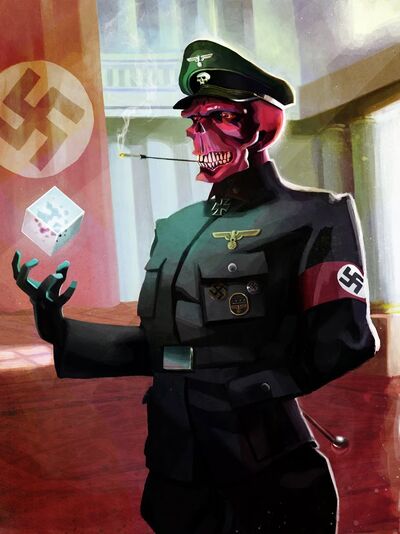 Name
Johann Shmidt
Codename
Red Skull
Species
Human Clone
Age
80s
Affiliation
Nazi Party, AIM, Sin, Crossbones, Mother Night, Machinesmith
Powers/Abilities



Artificially Enhanced Clone Body

Peak Human Strength
Peak Human Speed
Peak Human Agility
Peak Human Stamina
Peak Human Durability
Peak Human Metabolism
Peak Human Mental Process
Peak Human Reflexes
Peak Human Perception

Red Skull is Captain America's arch enemy since World War II. A master planner and super soldier, he will stop at nothing to rule the world and destroy Captain America and everything Cap holds dear.
Background
A Nazi agent subjected to testing to become a Nazi Super-Soldier. He served as Hitler's right hand man during WWII. After World War II began to build his own criminal empire for World Domination. He was recently reborn in a clone body of Captian America.
Personality
Sadistic
Megalomaniac
Cruel
Calculating
Logs
Ad blocker interference detected!
Wikia is a free-to-use site that makes money from advertising. We have a modified experience for viewers using ad blockers

Wikia is not accessible if you've made further modifications. Remove the custom ad blocker rule(s) and the page will load as expected.