DC/Marvel: Age of Infinite Heroes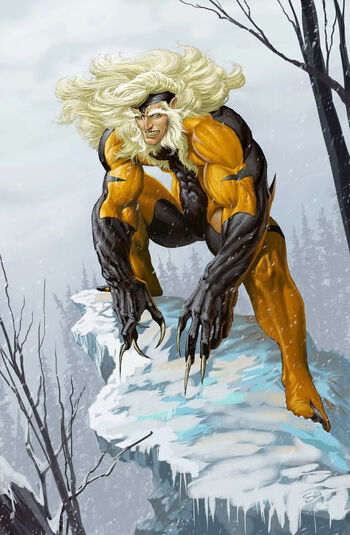 Name
Victor Creed
Codename
Sabretooth
Species
Mutant
Age
Unknown but born in the 1900's.
Affiliation
Mercenary, Weapon X (Sometimes),
Avengers 1959 (Formerly)
Powers/Abilities



Healing Factor
Claws
Super Strength
Endurance
Heighten Senses

He's a Canadian mutant feral that's impossible to kill. He's worked for every black Hat government group out there. He's also got issues with Wolverine.
Background
-Classified-
Personality
Animalistic Sadist
Logs
Ad blocker interference detected!
Wikia is a free-to-use site that makes money from advertising. We have a modified experience for viewers using ad blockers

Wikia is not accessible if you've made further modifications. Remove the custom ad blocker rule(s) and the page will load as expected.