DC/Marvel: Age of Infinite Heroes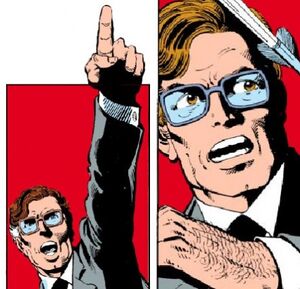 Name
Robert Edward Kelly
Codename
N/A
Species
Human
Age
40s
Affiliation
U.S. Government,
Friends of Humanity
Powers/Abilities



Robert Kelly is currently the New York Senate seat. He has a very strong anti-mutant position and a leader in the Friends of Humanity. He tries to push the Mutant Registration Act, and runs his platform on it.
Background
Becomes a Councilman of New York.
Runs for New York Senator seat and is elected on an anti-mutant platform.
Becomes closely tied to Friends of Humanity.
Kelly becomes leader of the FoH after Grayson's assassination.
Kelly runs for Senator again on the Mutant Registration Act platform and is elected.
The Brotherhood of Mutants attempt to assassinate Kelly, but the X-Men save his life.
Personality
Logs
Log(s) happened before the revamp and may not apply in full:
Current Log(s):
Ad blocker interference detected!
Wikia is a free-to-use site that makes money from advertising. We have a modified experience for viewers using ad blockers

Wikia is not accessible if you've made further modifications. Remove the custom ad blocker rule(s) and the page will load as expected.