DC/Marvel: Age of Infinite Heroes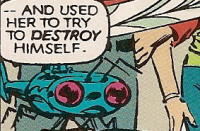 | | |
| --- | --- |
| Name | Sikorsky |
| Codename | N/A |
| Species | Chr'Ylite |
| Age | Unknown |
| Affiliation | Starjammers |
| Powers/Abilities | Physician of Organic and Cybernetic Systems |

Sikorsky is the doctor for the Starjammers and is very good at his job. No matter how strange he may appear.
Background
Personality
Logs
Log(s) happened before the revamp and may not apply in full:
Current Logs:
Ad blocker interference detected!
Wikia is a free-to-use site that makes money from advertising. We have a modified experience for viewers using ad blockers

Wikia is not accessible if you've made further modifications. Remove the custom ad blocker rule(s) and the page will load as expected.