DC/Marvel: Age of Infinite Heroes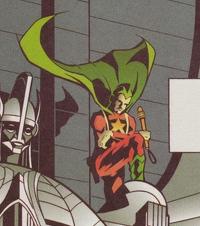 Name
David Knight
Codename
Starman
Species
Human
Age
Died in his late 20's
Affiliation
Solo
Powers/Abilities



Flight
Comic Energy Absorption
Gravity Control
Light Blasts

David Knight was given the Starman mantle by his father, Ted Knight. He made some small adjustments to the Gravity Rod and became the new defender of Opal City. His career was short though. He became addicted to and intoxicated by power. During a patrol on night, he was shot and killed by the son of his father's arch nemesis.
Background
Personality
Logs
Ad blocker interference detected!
Wikia is a free-to-use site that makes money from advertising. We have a modified experience for viewers using ad blockers

Wikia is not accessible if you've made further modifications. Remove the custom ad blocker rule(s) and the page will load as expected.